Mochila para Cámara Fotografía 30cm x 16cm x 42cm
81.99€
62.99€
&envío gratis a Spain
Código de Producto:
KF13.051
Fabricante:

K&F Concept

Comprar K&F Concept mochila para cámara fotografía 30cm x 16cm x 42cm en línea, envío gratis y 30 días de garantía de devolución.

Existencia:

Out Of Stock

62.99

https://www.kentfaith.es/ESKF13.051_mochila-para-c-mara-fotograf-a-30cm-x-16cm-x-42cm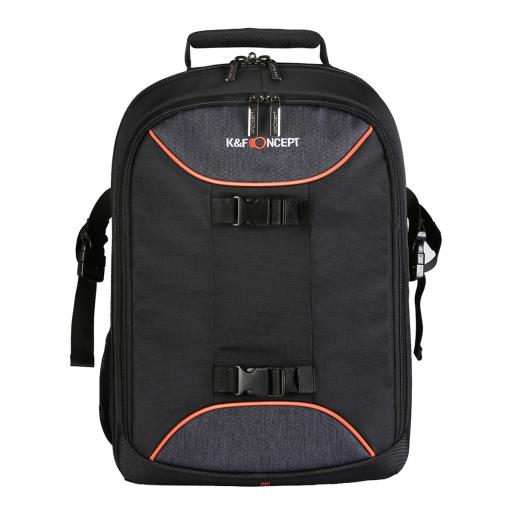 Mochila para Cámara Fotografía 30cm x 16cm x 42cm
2+ Productos
10% Descuento
!
Caracteristicas
• 【Especificaciones】 Esta mochila completa fotografica con muchos compatimentos, permite guardar su equipos de cámaras, multilentes, flash, trípode, 3-4 objetivos y otros accesorios, además ordenador portátil hasta 13"
• 【Capacidad】 El espacio interior está dividido en princepal, su capacidad es suficiente grande para guardar sus equipos cámaras, flash, lentes; en el espacio segundo con cremallera para poner Mac/ordenador portátil hasta 13"; En un lado de bolsa hay un bolsillo para poner paraguas o botella de agua etc
• 【Para Trípode】 Bolsillo expandible resistente para trípode
• 【Cómodidad】 Cómoda de llevar y proporciona acceso conveniente a su apertura cerca del cuerpo hacia afuera.
• 【Seguridad】 La cubierta para la lluvia incluida proporciona una protecci贸n extra en caso de mal tiempo o condiciones extremas.
Tamaño:Mochila para Explorador
Especificación

1.Tipo de Estilo: Moda
2.Dimensión Exterior: 11.81*6.3*16.54"(30cm*16cm*42cm)
3.Material: Nylon impermeable
4.Peso Neto: 1.8kg

Capacidad

1.Canon EOS 5DⅡ+EF85mm F1.2L
2.Canon 580 flash
3.Canon EF70-200mmF2.8L IS
4.Canon TS-E90mmF2.8 Tilt-Shift Lente
5.Canon EF16-35mmF2.8L
6.Canon EF24-70mmF2.8L
7.Manfrotto 190 trípode y 12" ipad
Cremalleras - antirrobo para el compartimiento principal sin bloqueo de código.
Esta mochila está hecho de nylon impermeable, de alta densidad. Impermeable / resistente al desgaste / resistente a los arañazos.
Equipado con protector de lluvia desmontable.
Esta mochila de cámara lleva unas correas muy cómodos y acolchadas, con enganche para pecho y para cintura, ideal para poder cargarla de peso y que no te duele la espalda después de un tiempo.
La correa de cintura para protección es desmontable.
La mochila cuenta con un bolsillo en la parte inferior para que puedas llevar un trípode en la parte frontal cómodamente.
Para evitar que se caiga, en la parte superior hay una correa para sujetarlo.
Mochila para Cámara Fotografía 30cm x 16cm x 42cm
K&F COncept Camera Backpack
Really impressed with this camera bag. I can easily get two DSLR cameras, flash gun, spare batteries, spare SD cards and a few other bits into the bag. Very comfortable to wear and after a while you can even forget it's there. Thoroughly recommended.
Mochila para Cámara Fotografía 30cm x 16cm x 42cm
So Far so good
Just received this bag so have not been out in the field with it yet but amazon is hassling me for a review so these are just my first impressions.The bag certainly seems comfortable to wear and the size is perfect for me as I have recently moved to Full Frame Nikon and needed the extra space to fit body, couple of lenses, filter pouch and other bits and pieces as well as ability to carry tripod comfortably and from my playing around with it it certainly seems to tick all the boxes.Theres a few nice touches too which I was pleasantly surprised with such as the inclusion of the waterproof covering and a little pouch with cleaning equipment for lenses and camera like airbrush, fluid, cloth and a retractable softbrush.Its a rare thing these days that you get something for nothing so kudos to K&F for this.I had been on the lookout for a bag this size for a while now but most of the shops I went into were stocking Lowepro bags and the price for a bag this size was out of my range so I was delighted to see the price of the K&F bag and the quality you were getting for the money.So unless it disintegrates when the first drop of rain hits it or the stitching comes apart I would thoroughly recommend this product.
Mochila para Cámara Fotografía 30cm x 16cm x 42cm
Mochila para fotografía estupenda.
Una mochila estupenda y con gran capacidad. Resistente. Lleva una bolsa de plástico para cubrirla en caso de días de lluvia.
Mochila para Cámara Fotografía 30cm x 16cm x 42cm
The Design Features Deserve Praise + Manfrotto Comparison Opinion
First of all, let me be clear that I'm reviewing the 11.81 x 6.3 x 16.54 inch black backpack in this listing, not the super jumbo 18.11 by 11.41 by 6.69 and I have good reasons for having picked the one I'm describing.Let's start with the design.The backpack has a number of really well thought out features which I noticed in the listing and it turns out that they are all exactly as expected, which is not always the case. Allow me to give you my findings.First of all, the backpack is quite compact and at the same time very capacious. Tick.It has netting on both sides for water bottles or tripods. Tick.It has one main compartment with dividers that are removable and rearrangeable to suit my equipment rather than someone else's vision of what I want to pack. Tick.It has a second compartment for a laptop and an iPad. Double tick.It has straps which are padded and very comfortable in addition to a sternum strap. This is probably the most important design feature of all. I would not buy a backpack without one. It is very effective for distributing weight enough to make it less taxing. Big tick.(At this stage in my review I regret writing "tick" repeatedly. I'm one consonant away from calamity.) Anyway, as I was saying…It also has a removable waist strap which is one of the major reasons I opted for this backpack. The strap is very comfy and perfect for overseas travel journeys but I don't use it for daily activities because I don't need to take everything with me all of the time and the backpack is light enough.The main compartment can be locked with an old suitcase lock I had kicking around. To be honest, I doubt I will lock my main compartment regularly but the truth is you're probably better safe than sorry. Maybe for airport travel or in places where you're not comfortable.Also, I suppose it depends who you are. If you're not the sort of person who is too aware of what's going on around them, just lock your bag because defeating the opportunity for someone to take your stuff is much better than having to fend someone off. So for security, I'd say this bag is exceptional.What am I missing…Oh, it has rubberised panels which add rigidity so that you can place it flat on the floor and it doesn't tip over every two seconds.Compared to my old Manfrotto backpack, this K&F Concept one is actually just as well made and I prefer the design steps taken. So far, I've been using it as my daily backpack for commuting.I've uploaded lots of pictures so you can see all of the features I'm referring to for a clearer idea of what the backpack looks like.Another point: I've noticed that the other reviews are discussing the larger backpack or don't specify what they are reviewing. I hope this review helps you out because it is all the insight I wish would have had when shopping for this one.Last point is that the value for money is superb. I can't justify a Manfrotto or LowePro for over double the price when this is manufactured to such an exceptional standard. I have ordered other K&F Concept products in the past and they have proven to be very well constructed.So, in summary, I highly recommend this backpack to professionals, amateurs and anyone travelling or hiking with their kit.
Mochila para Cámara Fotografía 30cm x 16cm x 42cm
Gran mochila
Materiales y cremalleras de calidad. Mucho espacio y bien optimizado. No se le puede poner ninguna pega. Si buscas una mochila grande para llevar mucho equipo, es una muy buena opcion.
K & F Concept Large Explorer Backpack
K&F Concept Large Camera Bag Review - A Great Bag for under $100
These images belong to K&F Concept end users.