M8 Micrófono Lavalier Inalámbrico UHF
126.99€
109.99€
&envío gratis a Spain
Código de Producto:
KF10.002
Fabricante:

K&F Concept

Comprar K&F Concept m8 micrófono lavalier inalámbrico uhf en línea, envío gratis y 30 días de garantía de devolución.

Existencia:

Disponible

109.99

https://www.kentfaith.es/ESKF10.002_m8-micr-fono-lavalier-inal-mbrico-uhf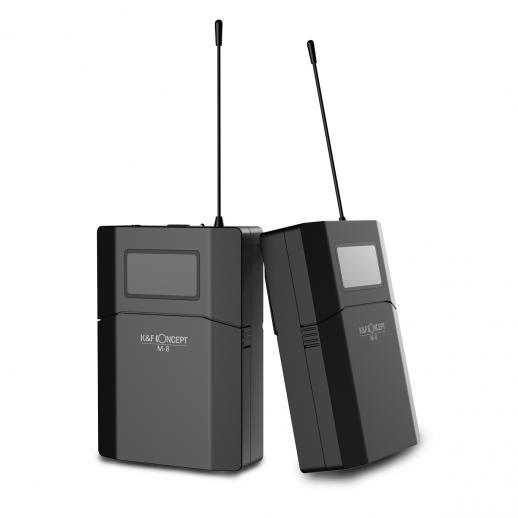 M8 Micrófono Lavalier Inalámbrico UHF
2+ Productos
10% Descuento
!
Caracteristicas
• 【Con Gran Capacidad Anti-interferencia】 El micrófono para solapa se adapta la banda de frecuencia UHF que contiene una fuerte capacidad anti-inteferencia.Gracias a su CLIP permite un uso muy cómodo y portátil.
• 【Con el Sistema de Redución de Ruido】 El micrófono inalámbrico para corbata se aplica el sistema de válvula para controlar ruido, con silencio automático su no hay señal; Además, ultiliza la tecnología WNCR para el control de ruido.
• 【Con la Tecnología de Control la Frecuencia Digital】 El micrófono receptor inalámbrico se adapta la tecnología DPLL de control la frecuencia digital, y seis canales predefinidos están disponibles.
• 【Con Circuito Complejo Libre】 Más de 4 conjuntos de dispositivos su pueden utilizar de la forma simutaneamente sin interferencia mutua; batería:2 pilas "AA" durante 15-20 horas de operación para el receptor.
• 【Con Alta Sensibilidad】 adaptado para el micrófono solapo unidireccional con alta sensibilidad y larga distancia de activación. La distancia de trabajo inalámbrica puede alcanzar hasta 70 metros, adecuado para muchas situaciones de interior y al aire libre.
M8 UHF
1157/5000 Micrófono inalámbrico para fotografía y grabación
Distancia de trabajo hasta 70 M sin barrera, ligero y protable
Utilizado en varias ocasiones, como el rodaje de películas y televisión, la recopilación de noticias y rocording, etc. Ligero, conveniente para llevar y uso. Funciona con videocámaras, cámaras DSLR y se monta fácil y rápidamente.
Pantalla de cristal líquido
Pantalla LCD en celosía, alta resolución Muestra la fecha más claramente.
Botón incorporado
Evite el contacto descuidado, evite el funcionamiento incorrecto.
Súper resistencia
Duración de la batería: 15-20 h para batería nueva. (Batería no incluida)
Reducción de ruido
La tecnología de control de ruido WNCR tiene un ruido extremadamente bajo
Distancia de trabajo 70m
La distancia de trabajo inalámbrica puede alcanzar hasta 70 metros, adecuada para una variedad de aplicaciones en interiores y exteriores.
Compuesto antiinterferente
Utilice la banda de frecuencia UHF, se adopta la tecnología de control digital de frecuencia DPLL.
Conector de tipo de arranque
Zócalo MIC
Se usa para ingresar señales MIC o AUX
Interruptor de alimentación
Compartimiento de la batería
M8 Micrófono Lavalier Inalámbrico UHF
Very easy to setup, sounds good for the price
The microphone came well packaged in a box that is also useful as a case.All you need to do to setup the mic is turn it on (batteries not included) and ensure they are set on the same channel.I did notice a small amount of static when turned up to higher volumes however this does not impact audio quality at a normal level.The 2 included microphones are useful and the clip on the back of the transmitter is useful as well.For the price, I am very impressed with this purchase, and sounds miles better than the on-camera microphone.
M8 Micrófono Lavalier Inalámbrico UHF
Amazing sound quality for this price
I do some tv news videos and documentaries so i needed a wireless lavalier microphone to have a good sound in the interviews. As I had a low budget I decided to try these, and they proved to be much better than I was expecting.The K&F M-8 comes in a well distributed box that is easy to assemble and start using. Good material quality and attention to detail such as an extra microphone sponge and a small microphone to attach directly to transmitter. The lavalier microphone cable length is ideal, not too long. Lightweight, easy-to-use especially on top of the camera or any other hot shoe mount bracket. Very good to use with gimbal due to being light.The lcd of the units is good and displays the battery level, channel (have 6 different) and the volume level in receiver unit.So far, in the situations I used, they always worked well, with low noise, good voice pickup and no interference. If you need to capture sound from another device or external microphone there is a simple button on the transmitter to switch from microphone to AUX. I recommend buying a Black Fur Microphone Windscreen for windy situations abroad and placing the lavalier micro as close as possible to the interviewee's mouth. In case you need to connect the receiver to a camera with only XLR input, just buy a mini jack for xlr male cable.Very easy to carry in the backpack, quick and easy to assemble. For the price, these microphones are more than recommended, and essential for any filmmaker.
M8 Micrófono Lavalier Inalámbrico UHF
Great quality, easy to use microphone!
The microphone is simple and intuitive to use; once powered on, the transmitter and reciever connect immediately. Once the 3.5mm jack is plugged into your camera you are ready to go! Make sure that you check the levels on your camera to ensure that the output level is set correctly on the receiver (I recommend a level of between 4-6) and the input level is set correctly on your camera. This initially took a little bit of tweaking but I soon determined the optimum levels. Having used this microphone both indoors and outdoors I am amazed at the quality of audio that it produces. There is no lag between the transmitter and reciever which is excellent. The batteries also last a very long time (the receiver and transmitter require a total of 4 x AA batteries operate. I used Duracell and the battery level had not changed after two entire days of recording). I used this microphone to create a interview based video for work and everyone has praised the results. Overall I am very happy with this purchase!
M8 Micrófono Lavalier Inalámbrico UHF
Good stuff, I'm impressed
I was thinking to do some youtube videos outside of my room, somewhere in a crowded area, but I was worried to take my camera out there since this is the only one I have...then I found this microphone. The quality is amazing! Absolutley perfect. I'm not talking about the actual microphone (don't get me wrong, the mic is still good :D ), I'm talking about the wireless ports. We've tried over 30-40 meter and the sound quality was amazing! It needs only 2x2 AA battery, and that's it. It has a 3,5 jack hole, which is very useful. It isn't cheap but I think it worth eeevry single penny. I want to give more than 5 stars but this is the maximum
M8 Micrófono Lavalier Inalámbrico UHF
Best in this price range
Really good product at this price.
Lavalier Microphone Wireless Lapel Mic K&F Concept M-8
K&F Concept M8 6 UHF Lavaliermikrofon
Best Budget Wireless Lav? | K&F Concept M-8 UHF Unboxing and Sound Test
These images belong to K&F Concept end users.