Adaptador de Lentes Canon EF para Fuji X Cámara
35.99€
20.99€
&envío gratis a Spain
Código de Producto:
KF06.061
Fabricante:

K&F Concept

Comprar K&F Concept adaptador de lentes canon ef para fuji x cámara en línea, envío gratis y 30 días de garantía de devolución.

Existencia:

Disponible

20.99

https://www.kentfaith.es/KF06.061_adaptador-objetivos-eos-fx-canon-ef-efs-lentes-para-fuji-x
2+ Productos
10% Descuento
!
Caracteristicas
• Permitir objetivos Canon EF utilizados en cámara Fujifilm X.
• Compatible con la cámara Fujifilm incluye: Fuji X100, X-A1, X-A2, X-A3, X-E1, X-E2, X-E3, X-M1, X-Pro1, X-Pro2, X-S1, X-T1, X-T10, X-T20, X-T2, X10, X20, X30, X70, XF1, XQ1, XQ2 etc.
• Hecho de latón y aluminio. Construcción estable, precisa y duradera. Operada manualmente. Enfoque infinito permitido.
• Para lentes pesados de formato medio, sugerimos utilizar con un soporte de teleobjetivo y un trípode para equilibrar su peso cuando se dispara.
• 30 días de devolución, 12 meses de garantía de calidad, 100% de garantía de satisfacción.
Frequently Bought Together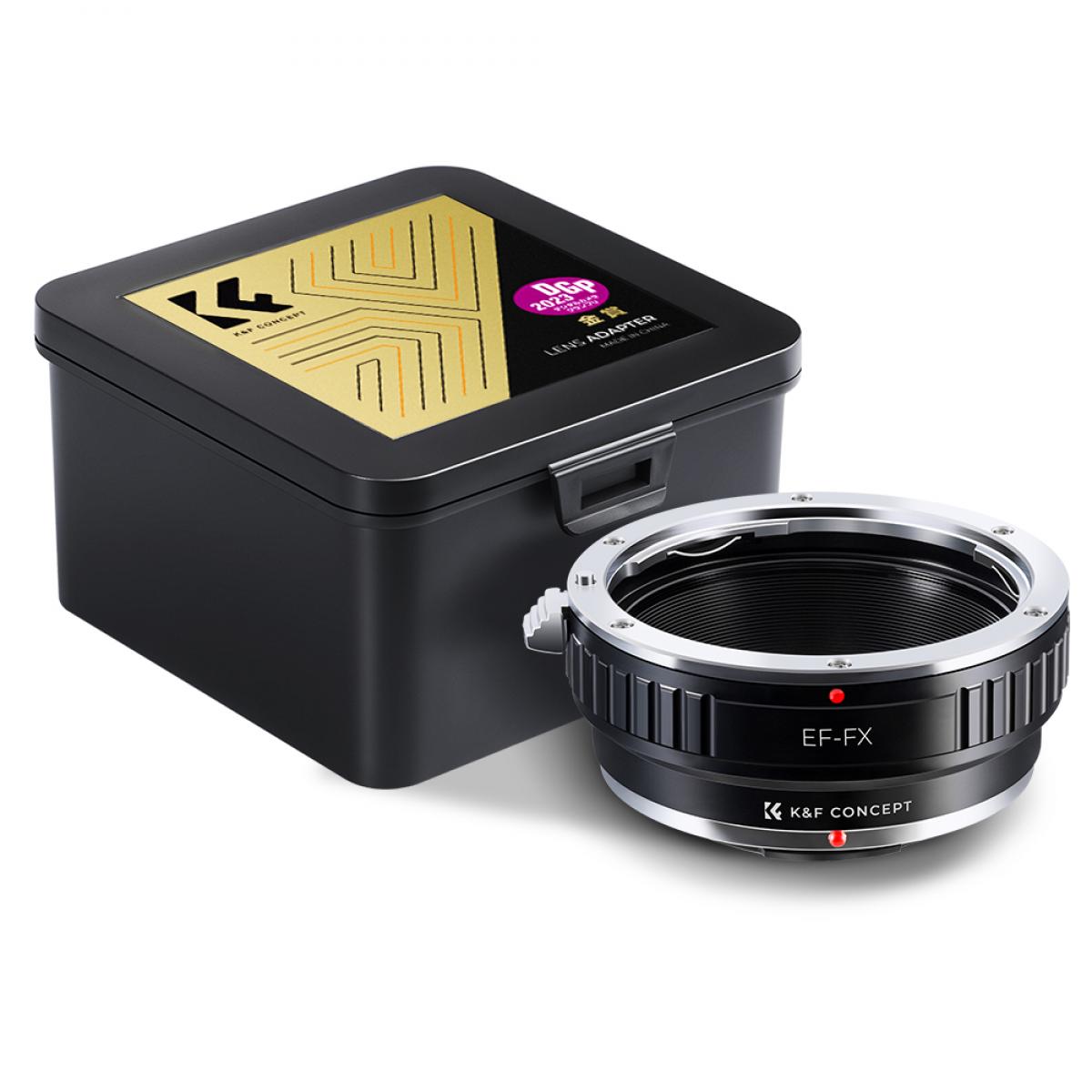 K&F Concept diseña y produce una completa de adaptadores para Canon, Nikon, Pentax, Olympus, Leica, Contax Yashica, Minolta, Tamron, T2, Exakta, M39, Pentacon, Sony, Fujifilm, Micro 4 3, M42, Cinema C etc.
Adaptador de Lentes Canon EF para Fuji X Cámara
Five Stars
Great product! Delivered in no time
Adaptador de Lentes Canon EF para Fuji X Cámara
Cumple su función
No queda claro cuando el adaptador está bien encajado o no. Sin embargo cumple si función. Poco más se puede pedir por su precio más que económico.
Adaptador de Lentes Canon EF para Fuji X Cámara
Manual focus is fine as soon as you have phase detection pixels in your camera body (XT2)
I got this adapter to use my Canon lenses with my new Fuji XT2. Because this camera body features phase detection pixels manual focusing is made very easy. The camera highlights edges which are in focus so you always know exactly how to turn the MF ring to get a sharp image. I highly recommend this adapter for people who are new to Fuji and migrated from an SLR ecosystem. Make sure you get a camera body with phase detection pixels though.
Adaptador de Lentes Canon EF para Fuji X Cámara
Quite useful
You get what you pay for. Fits reasonably okay. Make sure that shooting is on without lens. I plan to leave the adapter attached to some of my canon lenses as frequently removing them might cause slackness. Prompt delivery.
Adaptador de Lentes Canon EF para Fuji X Cámara
Good deal for the price
Does the job well, got infinity focus and I can now use all my Canon glass on my XT10. Worth noting that the EF side has a little more play than I would have liked though.
These images belong to K&F Concept end users.
| Image | Lens | Mount | Filter Size (mm) |
| --- | --- | --- | --- |
| | ARAX 80mm f/ 2.8 S&T | Canon EF EF-S | 62 |
| | Bell+Howell 14mm f/ 2.8 ED Aspherical IF | Canon EF EF-S | - |
| | Bell+Howell 85mm f/ 1.4 Aspherical IF | Canon EF EF-S | 72 |
| | Bell+Howell 8mm f/ 3.5 Fish-Eye CS | Canon EF EF-S | - |
| | Belomo 17mm f/ 2.8 МС | Canon EF EF-S | - |
| | Beroflex Auto W.W. 35mm f/ 2.8 | Canon EF EF-S | 55 |
| | Bower 14mm f/ 2.8 ED AS IF UMC | Canon EF EF-S | - |
| | Bower 24mm f/ 1.4 | Canon EF EF-S | 77 |
| | Bower 85mm f/ 1.4 Aspherical IF | Canon EF EF-S | 72 |
| | Bower 8mm f/ 3.5 Fish-Eye CS | Canon EF EF-S | - |
| Camera | Mount |
| --- | --- |
| Fujifilm X-A1 | Fuji X |
| Fujifilm X-A10 | Fuji X |
| Fujifilm X-A2 | Fuji X |
| Fujifilm X-A3 | Fuji X |
| Fujifilm X-A5 | Fuji X |
| Fujifilm X-E1 | Fuji X |
| Fujifilm X-E2 | Fuji X |
| Fujifilm X-E2s | Fuji X |
| Fujifilm X-E3 | Fuji X |
| Fujifilm X-H1 | Fuji X |